Enlightened Therapies new radiant amethyst crystal and thermal energy therapy underlays, pods and pads or bio mats synergize 2 therapy components: Far-InfraRed Light and Amethyst Crystal Energy delivering Core Activation Therapy that deeply penetrates to support restoration and maintenance of core temperature, for better health and well-being.
InfraBed users report "Feeling Better & Moving Better"
FOR COMPLETE CURRENT INFRABED PRODUCT INFO GO TO InfraBed.com.au
Infrabed® is not a registered therapeutic medical device yet and so any use with any medical condition should have your doctor's OK. InfraBed is a CE quality assured and SAA Safety assured thermal therapy device made for use in Australia that comes in a variety of 6 configurations.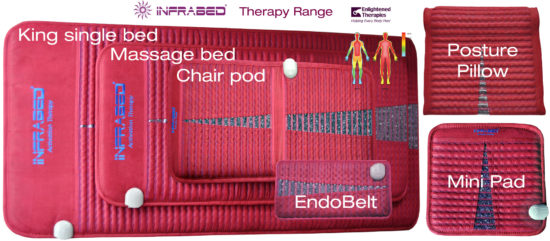 INFRABED King Single Bed size  LINK 194x80cm  –  $1660. (Option BioBlanket $195)
INFRABED Massage Medium bed  LINK 154x60cm –  $1360. (Option BioBlanket $195)
INFRABED Chair Pod fold or flat  LINK  94x45cm – $980
INFRABED Mini Pad square  LINK  45x45cm – $530
INFRABED EndoBelt flexi-belt  LINK  52x25cm – $530 *incl new Stretch Belt
INFRABED Posture Pillow wedge LINK 45x45x13cm – $530
BIOBLANKET * multilayer Energy Blanket King Single  LINK  –  $390
BIOBLANKET * multilayer Energy Blanket King Double  LINK –  $690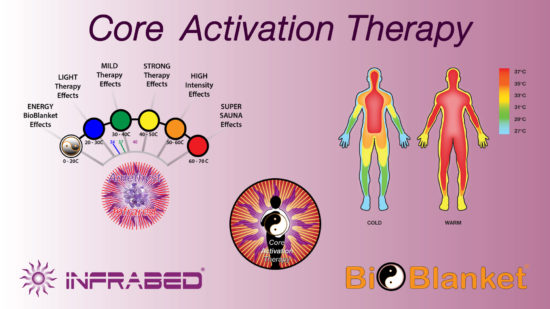 Core Activation Therapy is based on traditional and modern Hyper Thermal Therapy combined with heated Amethyst Crystals and Far Infrared Light Energy and may help to:
Relieve Aging Aches, Pains and Soreness
Improve Joint Mobility
Increase Blood Circulation
Stimulate Metabolic Process
Help Weight Loss and Management
Facilitate Detoxification of the body
Support physical & emotional Health
Raise whole body and core body temperature.  (read article)
Help the immune system to perform better. (read article)
PLEASE NOTE: The InfraBed is NOT a listed ARTG therapeutic medical device. It is not formally university researched, and so no therapeutic claims are made for it, except by way of comparison in regard to other traditional and/or modern allopathic results reported for simple thermal, Hyper-thermal and Infrared therapy.
BEFORE Using any device on any medical condition PLEASE CONSULT YOUR DOCTOR FIRST
Special Offer
Buy INFRABED Massage Table size 150 x 60 cm, Receive Free BIOBLANKET King Single, Save $195, Pay total $1550