News
← Older posts

Wollongong ABC Radio 97.3 Health Report on ENAR Therapy by NIck Rheinberger when he interviews Nurse, Naturopath and ENAR Therapist, Nyema Hermiston for the second time. Nyema's book 'Good News for people with Bad News' features remarkable recovery stories. The ABC received many inquiries re ENAR Therapy and some of these have received ENAR Therapy, bought their own ENAR device and some of those have come to ENAR Training.
See the complete Interview Video Here
Posted in
Uncategorized
|
Leave a comment

ABC 4 Corners discloses unneccessary operations
Monday 28th September 2015
ABC 4 Corners Program – "Wasted"
When we head to the GP most of us assume "the doctor knows best". But the truth is, many of the scans, tests and procedures ordered by medical practitioners are wasteful, unnecessary and potentially harmful.
"What do you think would be the reaction of the average person in the street if they knew what you knew?
"Well, I think they'd be quite alarmed." Health Economist
Healthy people are needlessly being turned into patients with tests and scans leading to treatments which at best have no effect, and at worst, cause harm.
"The surgery doesn't seem to affect the outcome any more than if you did a pretend surgery." Leading Clinician
"Patients are receiving care that is sometimes ineffective and sometimes unsafe." Health Economist
And it's costing us a fortune:
"You know we're just wasting hundreds of millions of dollars sending people off for unnecessary tests and exposing them to unnecessary radiation." Health Researcher
In this special edition of Four Corners, guest reporter Dr Norman Swan reveals the real story behind the malaise in the Australian health system. A malaise driven by waste, rather than a lack of money.
"Increases in health care costs have been driven a little bit by (the) ageing of the population, a little bit by increases in the costs of technologies, but the largest drivers are over diagnosis and over treatment." Health Researcher
Focussing on four common health complaints – back pain, knee pain, chest pain and prostate testing – Dr Swan shows how the cost to patients and taxpayers is escalating. Analysis by Four Corners found billions of dollars being squandered and more than a hundred inappropriate tests and procedures receiving Medicare rebates.
"We're headed for a tsunami of over diagnosis." Health Researcher
And as one interviewee explains, part of the answer lies with the public:
"If people knew that health interventions, tests and treatments were not going to deliver benefit, I think they might make different choices." Head of medical oversight body
Posted in
Pain
,
Research
,
Uncategorized
| Tagged
Pain
|
Leave a comment

 New Energy Blanket Version #2 with Two Reflective Layers gives even more insulation, reflection and physical rejuvenation power than the previous version. Take advantage of the Free Zip-up quality cotton cover limited time offer and save $80. Pay just $690. Only from Enlightened Therapies – In Australia ph 1300 305 107
Posted in
Uncategorized
|
Leave a comment
ENAR 3 Pathways – a typical treatment (from the ENAR Core Techniques DVD) from ENAR Therapy on Vimeo.
ENAR Three Pathways is the central treatment strategy and the primary protocol for ENAR Therapy treatments. Colleen Keetley, ET's Training Director, takes us through a typical, comprehensive ENAR treatment showing some of the advanced techniques she uses. These include micro-massaging, working out on the horizontals (dermatomes) and using the Y-probe to treat the neck and over the base of the occiput. Three Pathways is one of the expert techniques taught during ENAR Certificate Training Days.
Posted in
Uncategorized
|
Leave a comment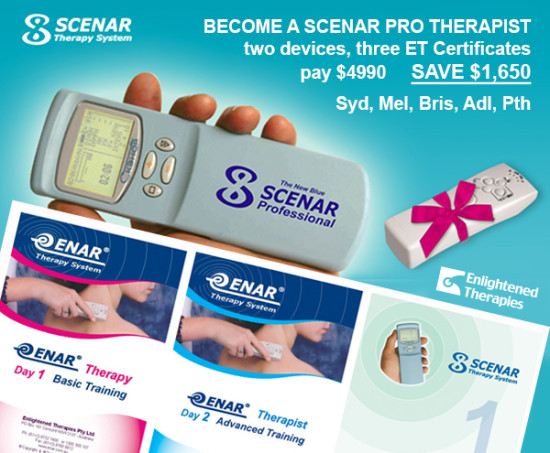 STOP PRESS  NOW SAVE $1,650 –  Buy  Scenar Expert Blue Pro $4,990 including Level One Training + ENAR device + both ENAR Training days and SAVE.
Training Dates:  Sydney, Melbourne, Brisbane, Adelaide, Perth
Yes you may become a Certified Scenar Pro Therapist and Receive the ENAR Therapy and Therapist Training and device FREE.
Our 14 year history at Enlightened Therapies pioneering the electro-energetic therapy field shows us the very best way to become a skilled and confident therapist is to learn the ENAR first to Therapist level And then step up to the Scenar Expert Blue Pro Level One training.   We are so convinced of this approach that we give it to you FREE.
This unique double offer saves you 990 + 660 + already discounted Scenar Expert Blue Pro, the world's most favoured, reliable and best Scenar ergonomically. Its not been bettered and experienced Scenar Therapists prefer it to all others. Partner it with research proven ENAR, worlds best ET training and support and you will better train and remain a competent and confident Scenar Therapist.
Posted in
Uncategorized
|
Leave a comment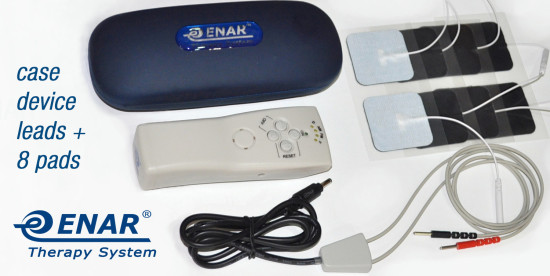 Buy ENAR just now $890 and Save $300 in Total on ENAR Therapy System: includes free strong 2-way leads and 8 pads, worth $50, as an additional discount FREE. Every New ENAR Therapy Device already includes New ENAR device, Info DVD and Core Techniques Training DVDs, 'How to use your ENAR', Full Colour Comprehensive Training Manual, Extended Warranty – 2 year Replacement Warranty (includes loaner upgrade offers outside of warranty) – plus our ongoing FREE live personalised advice and support.
Live Training Options
Optional Live Day 1 ENAR Therapy Basic Certificate Course available ($330)
Optional Live Day 2 ENAR Therapist Advanced Certificate Course available($330)
Optional Live Day 3 Integral Beauty and Cosmetology available ($330)
Posted in
Uncategorized
|
Leave a comment
In an increasingly busy world its great to have the Energy Blanket time-out experience, allowing your body to recuperate and your mind to just go blank. Mental activity and worry is a big part of stress and as Zen Masters know, some time not thinking is a blessing indeed. If you, your Mum and your other family members can use some recovery and de-stressing time-out, you may buy the ET Energy Blanket in May for just $630 including the quality cotton zip-up cover (value $90) Save $150. Its the perfect Mother's Day Gift!
Posted in
Uncategorized
|
Leave a comment
ENAR® Testimonial – Ryan – short circuits lengthy rehab
"Without the rapid healing from the ENAR there was NO way my hand would have healed quickly enough to allow me to compete."
My name is Ryan. I began Karate when I was 7 years old and currently hold rank of Nidan, 2nd Dan Black Belt. I have competed in Japan twice, won the Title of Junior Black Belt World Champion in the UK in 2011, and came 2nd at the World Karate Confederation Championships held here in Melbourne last year. The ENAR has enabled me to keep a consistent training schedule, taking very little time off for injuries.
One example – I used the ENAR to heal a broken toe. In just one week of therapy I was able to compete successfully, albeit in a bit of pain, but still able to compete!
Another example  – I had broken the bone and sustained ligament damage to the thumb on my right hand, the main hand I use to score with in kumite! The swelling was so severe I couldn't close my hand, couldn't make a fist, couldn't wear a mit, and definitely couldn't fight!  We ONLY had two weeks before the Nationals….. I noticed a dramatic drop in swelling after the very first session and by the end of the first week the swelling was completely gone, and I was able to close my hand. By the time I went to the Nationals in Sydney, I was able to compete, win and qualify to attend the Japanese Karate Championships as a member of the Australian Team!

ENAR® Treatment – Tip – ASAP injury response gets quickest results
As well as ENAR's proven ability to treat many painful chronic conditions. (Average 70% chronic pain reduction in 400+ user survey) The ENAR  is very effective at speeding up the healing process of acute injuries such as sprains, breaks, burns and other surface wounds. Apply the device on or around the affected area ASAP! to reduce odema (swelling) and fast track the healing process.
"The healing process is so much faster when you get onto it as soon as possible so it's a handy little device to carry with me and use whenever needed for injuries as bad as broken bones to sprains, corkys, and even just muscle soreness! Thanks Enlightened Therapies!!"     Ryan, Karate Junior World Champion 2011
Posted in
Uncategorized
|
Leave a comment
ENAR device owner Joy Hruby is super happy with her ENAR self-therapy results.   "Its gone !"
Joy Hruby, OAM, actress, TV presenter, producer and author says…  "My ENAR is super. The swelling in my feet has gone down, the pain from my osteo-arthitic knee pain is gone, the pain in my left shoulder that prevented me from sleeping on that side, is gone. I just treated my daughter's back pain and that's improved too."
Joy is the presenter and producer of her own program  "Joy's World"  screened weekly on TVS (Television Sydney).
Posted in
Uncategorized
|
Leave a comment
Enlightened Therapies and ENAR are expecting a great leap forward in 2014. Ground breaking. federal government sponsored research will open a new era for ENAR, and the precedent could possibly help other complementary therapies to address and compile credible medical evidence.
In an era where client centred empowerment strategies are increasingly called for, ENAR Therapy offers drug-free sustainable strategies for different types of painful conditions.
Stay Tuned and look no further than Enlightened Therapies and ENAR in 2014.
Posted in
Uncategorized
|
Leave a comment
← Older posts