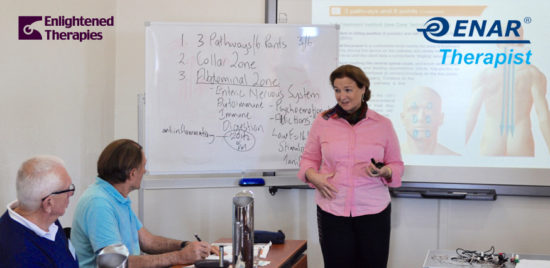 ET Certified Training Programs – to be a Therapist
Enlightened Therapies are World leaders in ENAR Therapy Training programs and these programs are widely accepted for professional and medical development points, as well as entry to numerous organisations including IICT – International Institute for Complementary Therapists. IICT membership empowers members to take out public liability and professional indemnity insurance with major providers like OAMPS Insurances.
ET pioneers Therapy Training in Australasia
Since 2000, Enlightened Therapies initiated ENAR Therapy and Training by bringing to Australia the original English and Russian physicians. ET then developed several in-depth training programs for practitioners including ENAR and Scenar Pro Certificate Training at Levels 1, 2, and 3, all of which have subsequently been adopted and used as the  industry standards.
Current ENAR therapist training from ET has evolved and now covers all relevant aspects of the traditional Russian sourced protocols and the more current German methods of treating, which are proving very effective and efficient. †Many busy and professional  therapists, having used both methods, now work the vast majority of the time with the ET Dynamic Approach.
ET holds regular training programs in most cities in Australasia and can provide small group, one on two, and even one-on-one ENAR training for you. ET leads the World in ENAR Technology and Training and continually receives the highest ratings from its course participants. Our trainers are highly experienced health professionals with a focus on your understanding, not just their expertise.
ENAR® Training + Support – Physiotherapist Testimonial
"I have used the ENAR unit clinically for over 5 years. As a physiotherapist I have found it highly useful in the management of chronic pain. I would recommend the ENAR to other medically trained therapists. I would highly recommend that anyone purchasing the ENAR unit to attend the ENAR training in order to better understand it's potential benefits. The staff at Enlightened Therapies are incredibly supportive and informative"  Shaheena Khan – Physiotherapist
Live Training Programs by ET include
ENAR Therapy Certificate – Basic – Day One
ENAR Therapist Certificate – Advanced – Day Two
Integral Beauty Therapy Certificate – Advanced – Day Three