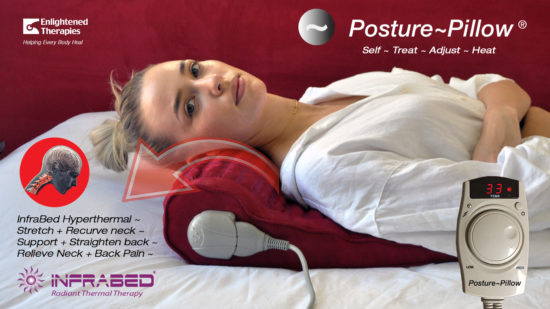 Rest, relieve and help restore your natural posture on the hyper-thermal stretch-therapy InfraBed Posture~Pillow, where the neck, shoulders and upper back are heated, released and re-adjusted by sliding yourself up on and over the uniquely contoured profile of your InfraBedPosture~Pillow helped by penetrating Amethyst Crystal Energy & Far-Infra-Red-Energy.
DEEP HEAT RELIEF ~ of NECK, Back, Shoulder PAIN
SELF~ADJUST NECK CURVE ~ BACK SUPPORT
RELEASE ~ Your FORWARD HEAD POSTURE
SLEEP ! ~ On Side or Back COMFORTABLY
InfraBed's hyper-thermal therapy comes through, via its unique new multi-layered and contoured support posture pillow, to facilitate body circulation, metabolism, and natural posture for health and rehabilitation.
 NB Consult your medical practitioner about using thermal therapy or stretching.
InfraBed ®and Posture~Pillow ®  trademarks of Enlightened Therapies PL   +61 2 4268 2222